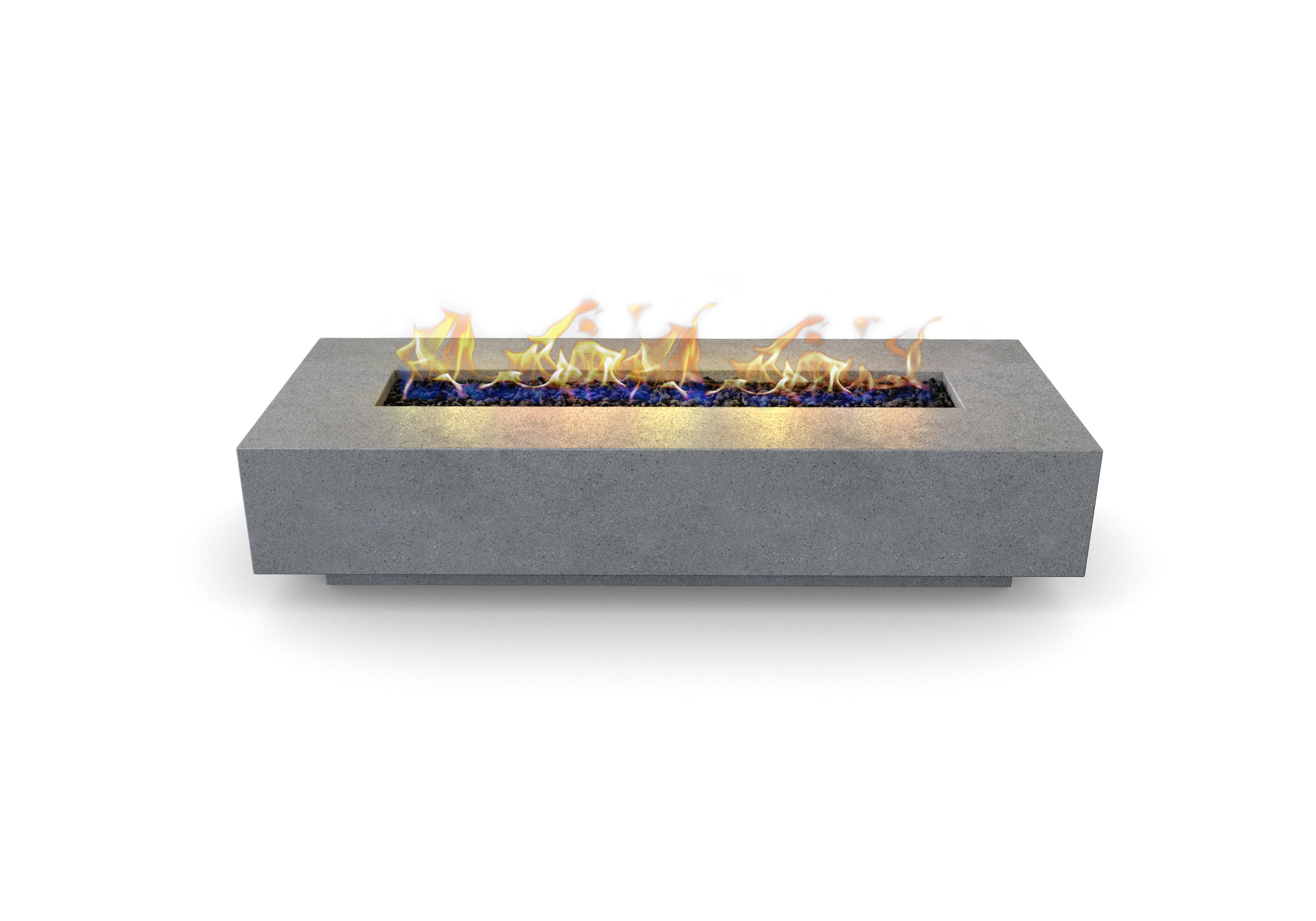 Pallas
Pallas' name was derived from the Greek word "pallô", meaning spear. This sleek yet balanced fire feature is perfect for large gatherings and groups.
Finish
Birch, Smoke, or Carbon

Dimensions
60"L X 24"W X 14"H

Approximate Weight
200 - 400 lbs.

Contact Distributors
The Burners: The CROSSFIRE™ Brass Burner by Warming Trends is a distinctive fire pit burner that utilizes cutting-edge technology to produce a taller, brighter, fuller flame.
They are made of sustainable, corrosion resistant, rust-free brass and allow 10K BTU's per orifice, resulting in 120K-190K BTU output. This produces a flame that is twice the size of typical prefabricated features, while using roughly half the amount of natural gas.
The Features
Precast concrete fire vessel.

Warming Trends Crossfire Brass Burner 120K-190K BTU

Key valve, flex hose, metal burner plate.

Black Lava Rock (1-3" size)
Colors & Finishes: Nisho is hand-crafted out of glass fiber reinforced concrete (GFRC), which consists of high strength alkali-resistant glass fiber that are embedded into the concrete matrix. Choose from a Birch, Carbon, or Smoke hand crafted finish where each color may have a slight variation. Both exude form, function, and are of exquisite craftsmanship.
Features are made of a cementitious GFRC material. As they are natural characteristics of concrete, color variations and some surface imperfections should be expected and understood by the client. All efforts are made to keep colors and finishes as uniform as possible, but some variances and imperfections will occur in concrete based products. Products have been pre-sealed but it is recommended that a concrete sealer be used annually to maintain that the concrete feature is sealed over the course of time.